Alliance Against Homophobia
We were the first company from the energy sector to join the Alliance Against Homophobia on 30.11.2015. As a partner of the city, we are campaigning for a tolerant Berlin.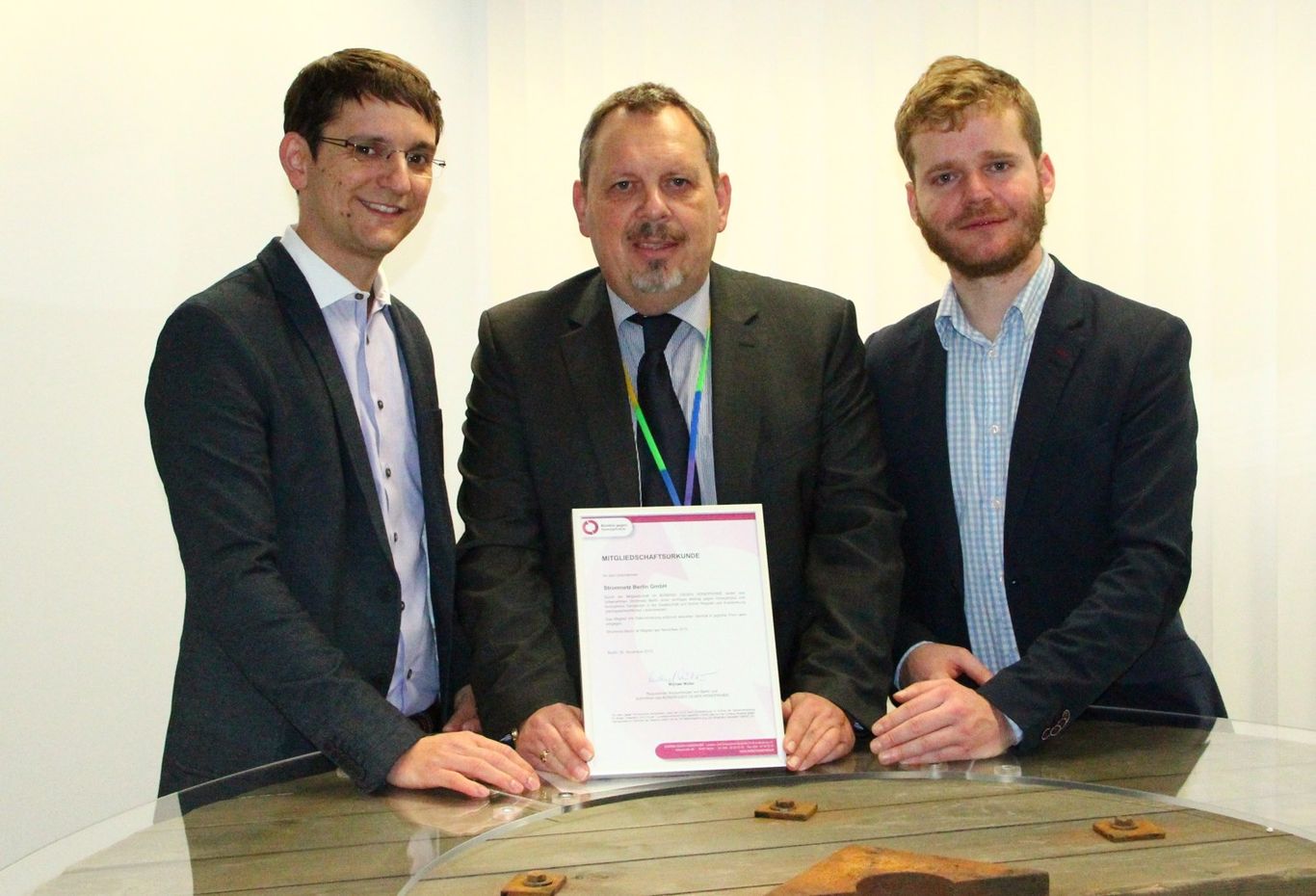 Handover of the membership certificate (from left): Jörg Steinert, Lesbian and Gay Association, Thomas Schäfer, Daniel Gollasch, Bündnis 90/Die Grünen
We take it for granted that households in Berlin have an electricity supply. We make our network available to every user without discrimination. Acceptance of same-gender couples should be taken for granted in the same way plug sockets in every house or apartment are. This is why we are campaigning with the other members of the Alliance Against Homophobia for a life free of discrimination.
In cooperation with AOK Nordost, the Berlin Sparkasse, the BSR and Getränke Nordmann, we are supporting the alliance's Rainbow Festival in Autumn 2015 with the slogan "Regenbogenfamilien gehören dazu" ("rainbow families belong").
In order to actively fight homophobia, and on behalf of the Senate Administration for Work, Integration and Women - State Anti-Discrimination Body (LADS), the Berlin Lesbian and Gay Association is implementing the Alliance Against Homophobia, which the association started, as part of the campaign "Berlin joins together in support of self-determination and acceptance of sexual diversity." The alliance, which was founded in 2009 in the Rotem Rathaus, is under the patronage of the Governing Mayor of Berlin, Michael Müller, as well as the retired Governing Mayor, Klaus Wowereit.