Junction box styling 2023
Most creative junction box 2023
Have you got what it take?
Most creative junction box 2022 competition underway/ registration for 2023 now open
The current round of the popular school project, where children and young people decorate Stromnetz Berlin GmbH junction boxes and transformer stations with colourful motifs, has been underway since March. Every year, around 500 boxes are sprayed in different designs – with great results. The first freshly "styled" works of art of the season can be admired in the districts of Pankow and Wedding.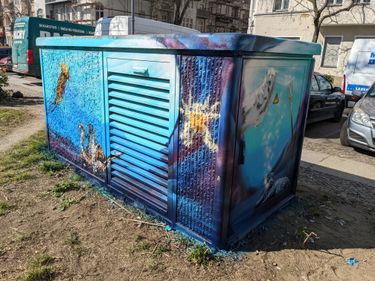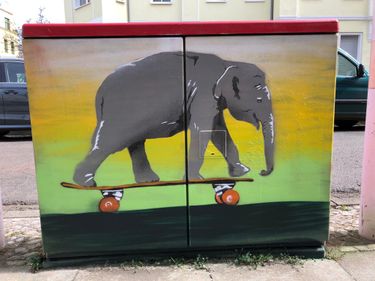 Participating schools and funding associations have until October to decorate further cable distribution boxes in their districts. Almost 8,000 of the 17,500 boxes in the entire Berlin urban area have been decorated in colourful motifs in recent years thanks to junction box design competition.
The campaign is aimed at pupils from the 5th grade upwards. Each class creates their design for junction boxes in their district during a week-long project. At the start of this week, the pupils begin with developing motifs. Then, under the guidance of experienced street artists and teachers, templates are created or freehand spray techniques are learned and tried out. The final step is to apply the learned skills to junction boxes or transformer stations near the relevant school. Spaces are limited and participating schools will be notified by the end of the year at the latest. The selected classes will then carry out the artistic work between March and October 2023.
As the crowning glory of the styling season, the "Most creative junction box" will be chosen in spring of the following year and the "Audience favourite" will be nominated in an online public vote.
In 2023, we want to make our city even more colourful and – this time - "sunnier" with your help. The motto of next year's Most creative junction box competition is "Energy transition" – Bringing the sun to Berlin".
Applications for Most creative junction box 2023 are now open until 28 August 2022.
The project is being carried out in cooperation with meredo e. V. and Helliwood media & education im fjs e. V.