Work with us
We offer meaningful and responsible tasks, a respectful and open cooperation, a modern working environment and excellent continuing education.

With flexible working time models we want ensure a healthy work life balance. Safety and health protection are thereby important elements of our corporate culture.We regularly hold occupational safety and health days, take measures to avoid accidents and offer all employees free and confidential advice and coaching by an external service provider in all professional and private matters.
We offer to our young professionals a practical training with optimal chances for a career. We educate apprentices in three technical professions annually. Also a dual course of study is possible.
Experienced or young talent: who decides for Stromnetz Berlin, relies on a secure workplace and a meaningful task!
Employee development
We know that it takes courage to achieve your goals. At Stromnetz Berlin, professional and personal development go hand in hand.
Training and development courses
Your career at Stromnetz Berlin will constantly pose new challenges. We make sure we offer training opportunities that develop our staff across all competencies. As well as our internal training courses, we also offer our employees external training opportunities on an individual basis.
Leadership programmes for managers
Excellent leaders and project managers are key to our company's continued success. All managers at Stromnetz Berlin can take part in company-wide leadership programmes. The goal is to support managers in their role as versatile and flexible leaders.
Compensation & benefits
As an employee at Stromnetz Berlin, you can expect recognition, competitive remuneration and additional benefits.
Our mission is to:
truly reward strong performance
focus on potential
enable flexible solutions that facilitate employees in their work
A look behind the scenes
Work as a trainer for assembly training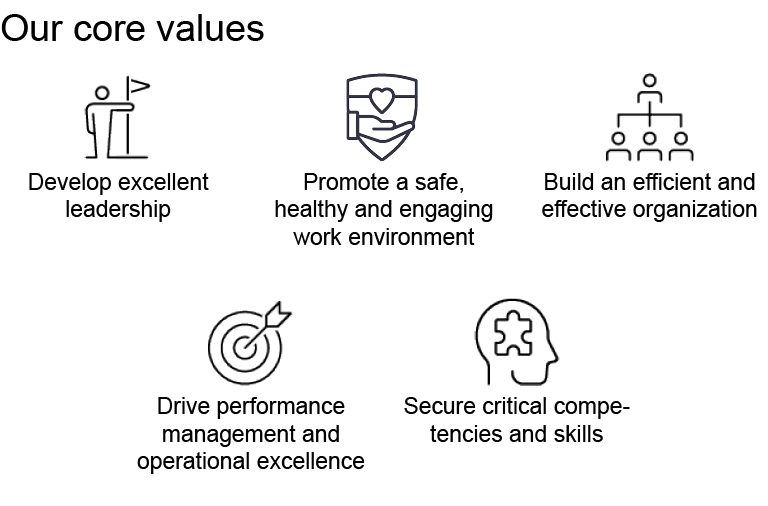 Remuneration
We offer a variety of remuneration and benefit models, which generally include the following:
Annual fixed-base salary
Annual variable salary
Miscellaneous operational allowances
Decisions on individual remuneration will be reached through consideration of both individual performance and any agreements with the trade union, works councils or similar interest groups.
The purpose of a variable salary is to ensure a clear link between individual performance and the Group's strategic direction.
Pension scheme and insurance
Our employees can participate in our company pension scheme.
Furthermore we offer various benefits, e.g. accident insurance under special employee conditions, which may also be expanded to include family members.
Parental leave
We encourage our employees to take parental leave and will advise staff on an individual basis.
Work/life balance
We want to enable our employees to find a better balance between work and family life. This is why we offer our staff flexible working hours models and the opportunity to work part-time.
Fitness, health and wellness
We care about the balance and health of our employees. We offer various prevention services in the areas of nutrition, exercise, addiction and stress. The offers include
Sports courses such as yoga,
Info events to optimize the work-life balance and promote a healthy lifestyle
medical check-ups.
Our occupational health management has been certified by the BKK umbrella association with the "German seal company health" in gold.
Promotion of women and diversity
Our organization and our cooperation are undergoing change and permanent development based on external and, in particular, internal factors.
Promoting women and increasing the proportion of women has been a priority strategic goal in the past, is currently and will be in the future. We see major challenges for our company, which we will better overcome by promoting women and diversity.
We have become more diverse. We will continue to expand this diversity we have gained. One of the goals we have set is a balanced generation mix - here, too, we are already well on our way. We also want to continue to fill at least five percent of our positions with people with severe disabilities.
We consistently reject discriminatory behavior against people of color or on the basis of ethnic and cultural backgrounds, ideological and religious beliefs, marital status or sexual identity or orientation.
We present our activities and measures in our Plan for the advancement of women.
All documents in German language only.