Ready, steady, go: Europacity gets its own substation
04.09.2014
Work is already underway on a new 110/10 kV substation for Europacity, a development area in Berlin.
Work is already underway on a new 110/10 kV substation for Europacity, a development area in Berlin. Following its commission, which is expected to take place in about three years' time, the plant will supply electricity to the emerging area between the Hauptbahnhof and Heidestrasse. Stromnetz Berlin GmbH, the capital city's distribution system operator, is investing more than €30 million in the project as a whole.
"Of course, nothing can function in the new Europacity district without electricity. This is why a separate substation is so important to the development of this district in the heart of Berlin. This new construction means that we can ensure a safe and reliable electricity supply from day one," explained Dr Helmar Rendez, Chairman of the Management Board at Stromnetz Berlin GmbH, at today's ground-breaking ceremony.
There are a number of reasons for constructing a new, additional substation in the heart of Berlin, including the expected load increase owing to the development of the Europacity district on Heidestrasse, the peripheral development taking place around the Hauptbahnhof district and further densifications in the Chausseestrasse and Friedrichstrasse area.
The new station – one of around 80 in the Berlin city region - will be equipped with state-of-the-art switchgear, transmission and communication technology and will be integrated into the remote monitoring and control system of the central grid control centre in Berlin-Tiergarten. This will enable the employees at the grid control centre, which is staffed around the clock, to have a permanent overview of the grid situation in the substation's coverage area. And, if required, they can intervene from afar in no time at all. As well as ensuring that the grid area secures a highly reliable supply, this also contributes to the success of the energy revolution. After completion, around 21,000 domestic customers and 4,000 business customers will receive their electricity via the systems of this substation.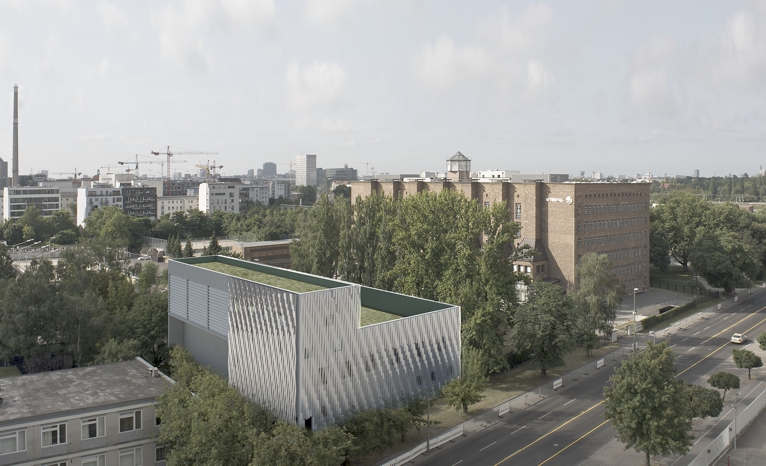 View from the north of the completed substation in Sellerstrasse (architecture: Heide & von Beckerath)
In accordance with the architectural urban planning guidelines of the Federal Land of Berlin, the future substation plant will have a modern facade made from metal, profile glass and aluminium plain sheet, enabling it to fit in with the development at the site.