"They're getting more and more beautiful..." - junction box styling 2017 is underway
13.07.2017
There's still time to register for the 2018 school project
Grey is a thing of the past – junction box styling brings colour into play. The ninth season of this school project, in which children and young people decorate Stromnetz Berlin's junction boxes and transformer stations with a fresh coat of paint and creative designs, has been running since April. This year, around 500 boxes are due to be decorated through the project, improving the neighbourhoods' appearance. The first newly "styled" examples from this season have popped up in the areas of Reinickendorf, Spandau, Steglitz-Zehlendorf, Mitte, Treptow-Köpenick, Tempelhof-Schöneberg, Friedrichshain-Kreuzberg and Marzahn-Hellersdorf.
Participating schools still have until October to bring the grey cable distribution boxes in their districts to life with colour and design. Thanks to junction box styling, around 2,000 of the total of 16,000 boxes in the Berlin city area have already received colourful designs over the past few years.
Stromnetz Berlin's "junction box styling" school project is run in collaboration with meredo e.V. and Helliwood media & education im fjs e.V. As in previous years, the most creative junction box will be selected at the end of the styling season and a "public's favourite" will also be selected through a public online vote.
NB: note to media representatives: Want to experience junction box styling live on location? In the 31st week of the year, young people will be designing one transformer station in Pankow and one in Wedding. The week after (week 32), there will be a chance to visit pupils in Hellersdorf as they decorate the stations as part of a holiday project. If you are interested, please contact us using the details provided below.
Last chance to take part in 2018 - interested school classes still have time to register
The project is aimed at pupils in year 5 and above. During the week-long project week, every class will redesign 15 junction boxes in their local area. At the start of the project week, the pupils will develop their designs. Then, under the guidance of experienced street artists and teachers, they will create templates and learn and try out freehand spray-painting techniques. The crowning moment of the week comes when they apply what they have learned to junction boxes and transformer stations near their school. Spaces are limited and participating schools are notified by the end of the year at the latest. The selected applicants will then be able to show off their artistic sides from April to October 2018. You can still register online until 23 July 2017 or by emailing stromkastenstyling@strommetz-berlin.de.
Painted junction box of Comenius-Schule, Spring 2017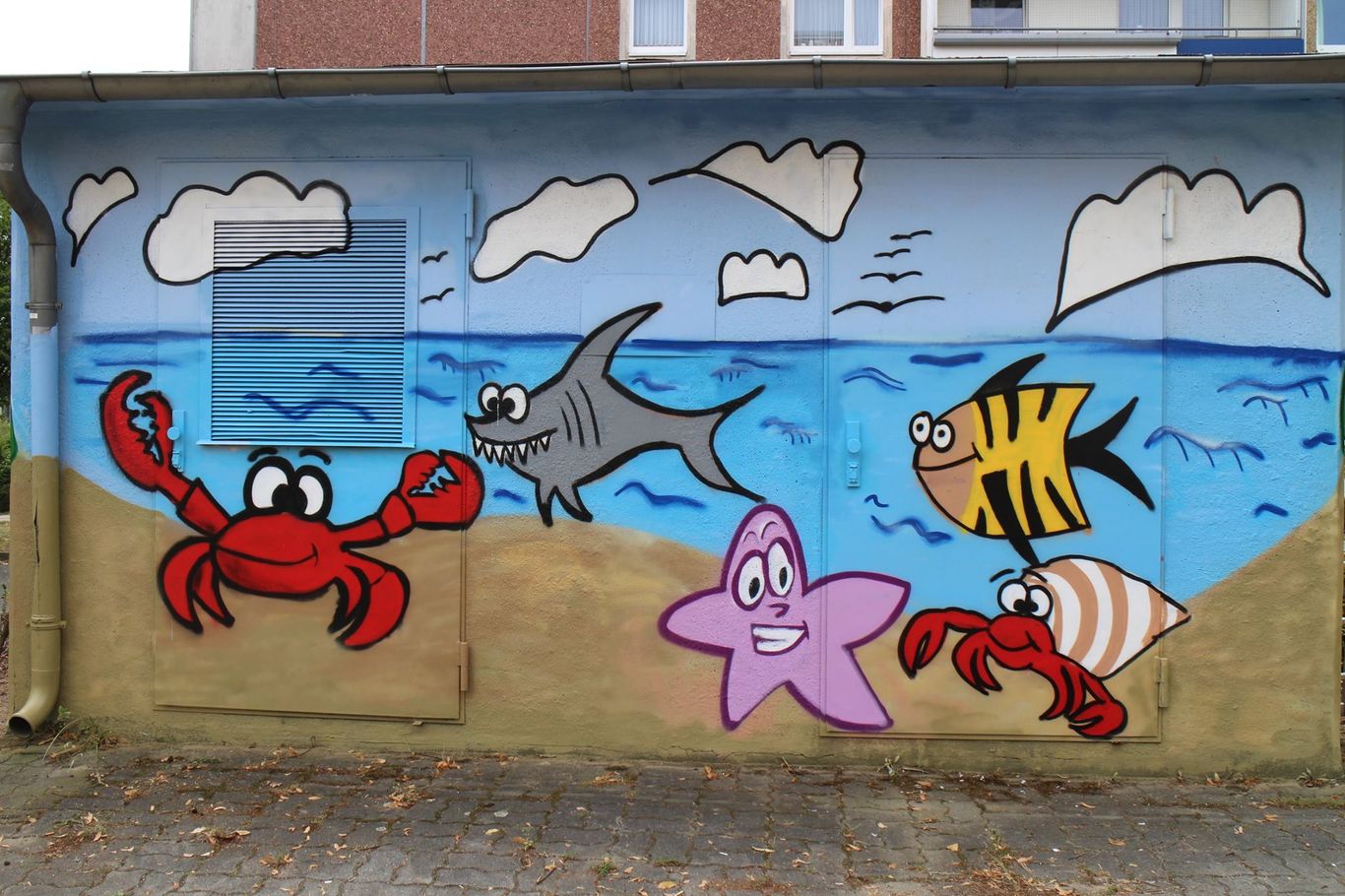 Painted since an vacation project at Berlin-Hellersdorf, spring 2017