Walking from Steglitz-Zehlendorf to Santiago de Compostela
02.08.2021
Opening of nine further Jakobsweg junction boxes
On 2 August, nine further Jakobsweg junction boxes will be opened in Steglitz-Zehlendorf. Together with District Mayor Cerstin Richter-Kotowski and Dr Christopher Frantzen, President of Jakobusgesellschaft Brandenburg-Oderregion, Stromnetz Berlin GmbH, represented by Kerstin Riesch, Head of Medium and Low Voltage Networks, invites visitors to a photo session.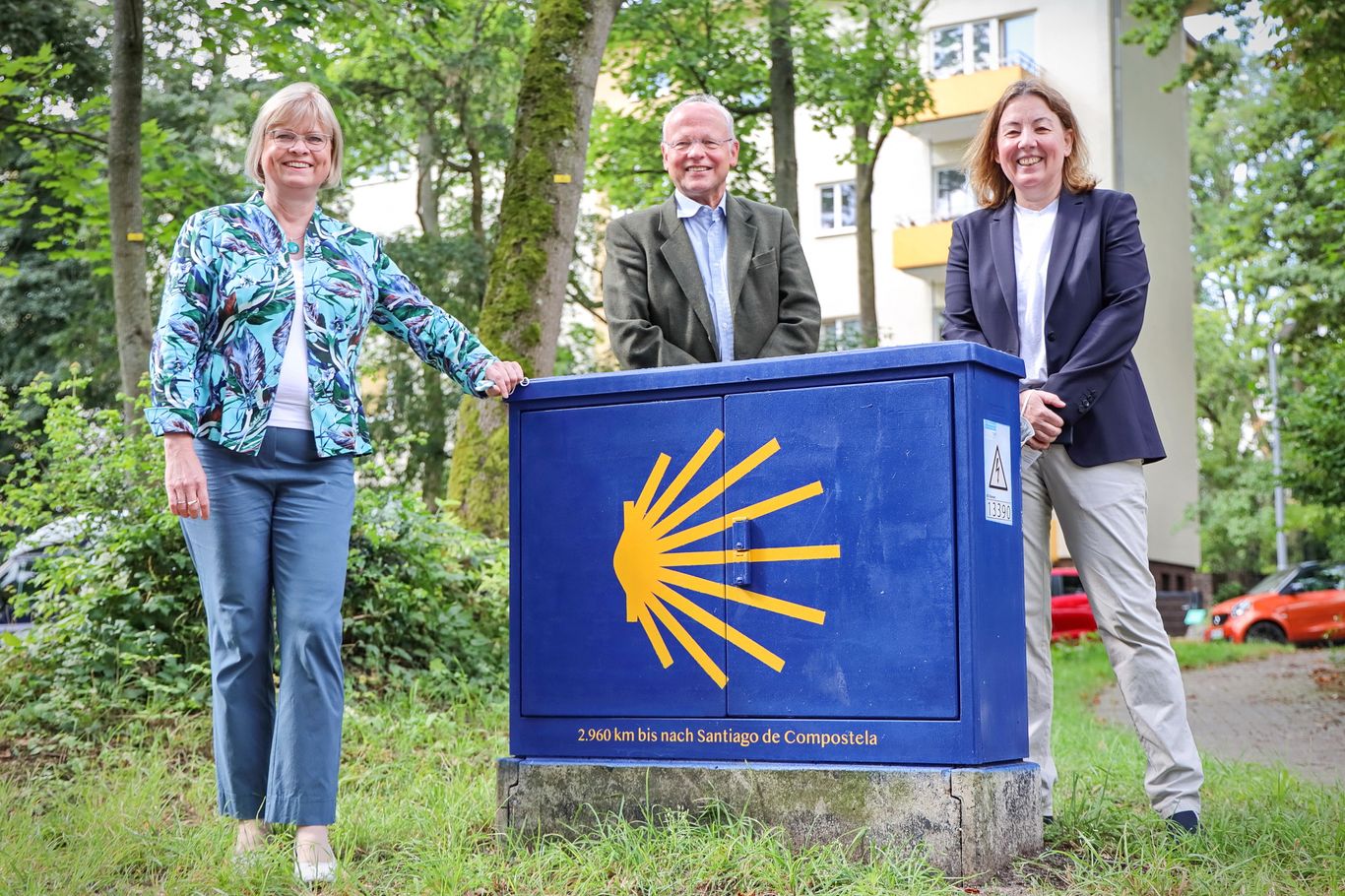 left to right: Cerstin Richter-Kotowski, District Mayor Steglitz-Zehlendorf, Dr. Christopher Frantzen, President of Jakobusgesellschaft Brandenburg-Oderregion, Kerstin Riesch, Head of Medium and Low Voltage Networks Stromnetz Berlin GmbH
There has been a Jakobsweg junction box in Tempelhof-Schöneberg and Steglitz-Zehlendorf since last year. The Jakobsweg transformer station on the Drachenspielplatz playground, which was also opened last year, is a special highlight on the pilgrim path through Berlin.
Kerstin Riesch explains: "We are pleased to play a part in improving the visibility of this European cultural route in our city with the help of our power distribution boxes and hope that there will be more supporters for the route marking." There are around 17,000 of these boxes that are so important for power distribution in the city. In addition to junction box styling, with around 5,000 boxes already having been designed in colour over the last few years, the ones along the Jakobsweg are now also making a visual statement.
For more than 30 years, the Council of Europe has been strengthening the feeling of solidarity through cultural routes connecting countries – the very first cultural route was the Siberian route in 1987. The pilgrimage routes in Germany are increasingly well marked. This wasn't an issue in Berlin for a long time, until the District Council of Tempelhof-Schöneberg unanimously decided that the route through Berlin via Imperii should also be signposted in December 2019. This model was followed by the District Ordinance Meeting of Steglitz-Zehlendorf in February 2021 with another unanimous decision.
On the Jakobsweg through Berlin, you can pass the Brandenburg Gate and the Südkreuz train station, among other places. The route leads through the cities of Teltow and Beelitz in Brandenburg and through Wittenberg in Saxony-Anhalt. In Leipzig in Saxony, pilgrims can recently have a pilgrimage certificate issued for their walk from Berlin to Leipzig. A group of bicycle pilgrims from Leipzig has already registered their intentions for August with the Jakobusgesellschaft in Berlin. In a few days, the women's self-help group "Pilgern gegen Krebs" (Pilgrims against Cancer) wants to run along the new route in Steglitz-Zehlendorf. The Volkshochschule Steglitz-Zehlendorf is now also offering taster courses for interested parties.