An opportunity for young artists:
07.06.2016
Sign up to the 2017 junction box styling project now!
Sign up to the 2017 junction box styling project now!
School classes from the Berlin city region wishing to take part in the "junction box styling" school project can now apply for a place. The project is being organised by Stromnetz Berlin GmbH and the media skills centres meredo e.V. and Helliwood media & education im fjs e.V. The painting and spraying project will get underway for the ninth time in 2017.
School classes that wish to take part have until 25 July 2016 to send their application by e-mail to stromkastenstyling@strommetz-berlin.de. The selected applicants will then be able to show off their artistic sides from April to October the next year.
The project is aimed at pupils in year 5 and above. Each class will redesign 15 junction boxes in their neighbourhood during the week-long project. At the start of the project week, the pupils will develop their designs. Then, under the guidance of experienced street artists and teachers, the groups will create templates and learn and try out various spray-painting techniques. The crowning moment of the week comes when the schoolchildren put what they have learned into practice as they brighten up junction boxes and transformer stations near their school.
Grey is a thing of the past – the '2016 junction box styling' project is underway
The 2016 junction box styling school project has started. Junction boxes throughout the city have been receiving a makeover for the past few days thanks to the initiative by Stromnetz Berlin. This marks the eighth edition of the project.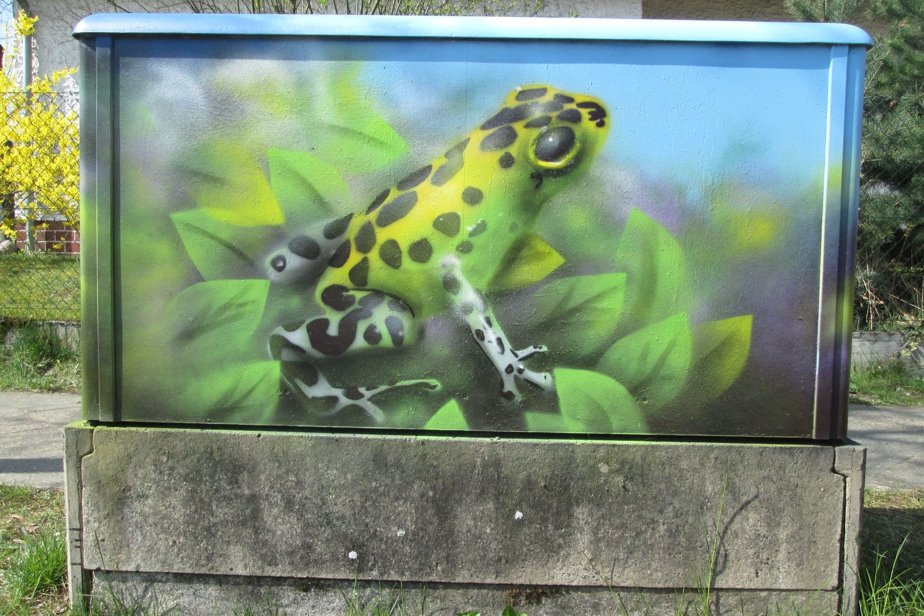 Grundschule am Tegelschen Ort primary school in Reinickendorf, stencil design, project partner: meredo e.V.
Justus-von-Liebig Grundschule elementary school in Friedrichshain, freehand, project partner: Helliwood media & education im fjs e.V.

As in previous years, schoolchildren have been called on to brighten up junction boxes around the city with their creative ideas. Between now and October, the grey cable distribution boxes in various neighbourhoods will be revamped. Of the 16,000 boxes throughout the Berlin city area, around 1,700 have been re-imagined in colourful designs in the past few years. The aim is to do the same for another 500 or so boxes around the whole of Berlin. The first freshly styled boxes this year can be found in Reinickendorf and Friedrichshain-Kreuzberg.
As in previous years, the most creative junction box will be selected at the end of the styling season. People can pick their favourite in a public vote.
Details about our junction box styling school project